We are committed to building a sustainable future. In December 2022, we published our first ESG Report published in December 2022, titled "Shaping Our Future". Within this report, we set out in more detail our ambitions and targets in order for our stakeholders to better understand and engage in our plans. We are also working to align our ESG actions with the United Nations Sustainable Development Goals and as part of our framework identified four goals which we are integrating into our programme (see right).
As we develop and formalise our ESG programme and acknowledge the progress we have made, we also recognise that we are on a journey and that there is much more for us to achieve. We will be transparent with our wider stakeholders as we work towards our defined goals and targets. This includes BizSpace, which we have successfully integrated into our wider ESG programme during its first full year of ownership, ensuring our actions are aligned across the Group to meet the ambitious goals we have set for ourselves, and demonstrating accountability for all our activities.
The Sirius ESG roadmap
We believe that driving positive change must be commercially practical, financially viable, and based on sound management assessment and decision making which considers the resources available to us.
Any actions we make public going forward will be integrated into our management and financial planning. This may take us longer, but we believe that proper planning and assessment are important to all our stakeholders. As communicated in our ESG Report in December 2022, the materiality assessment conducted at the end of 2020 and into 2021 informed the direction of our ESG roadmap. By combining this with our own insight and experience, we have been able to identify the key environmental, social and governance issues which we believe could have the greatest impact on Sirius, from both risk and opportunity perspectives, and we are evolving our management practices accordingly. The materiality exercise identified three overarching strategic goals supported by fourteen objectives on which we are focusing our investment, time and efforts. These are summarised as follows: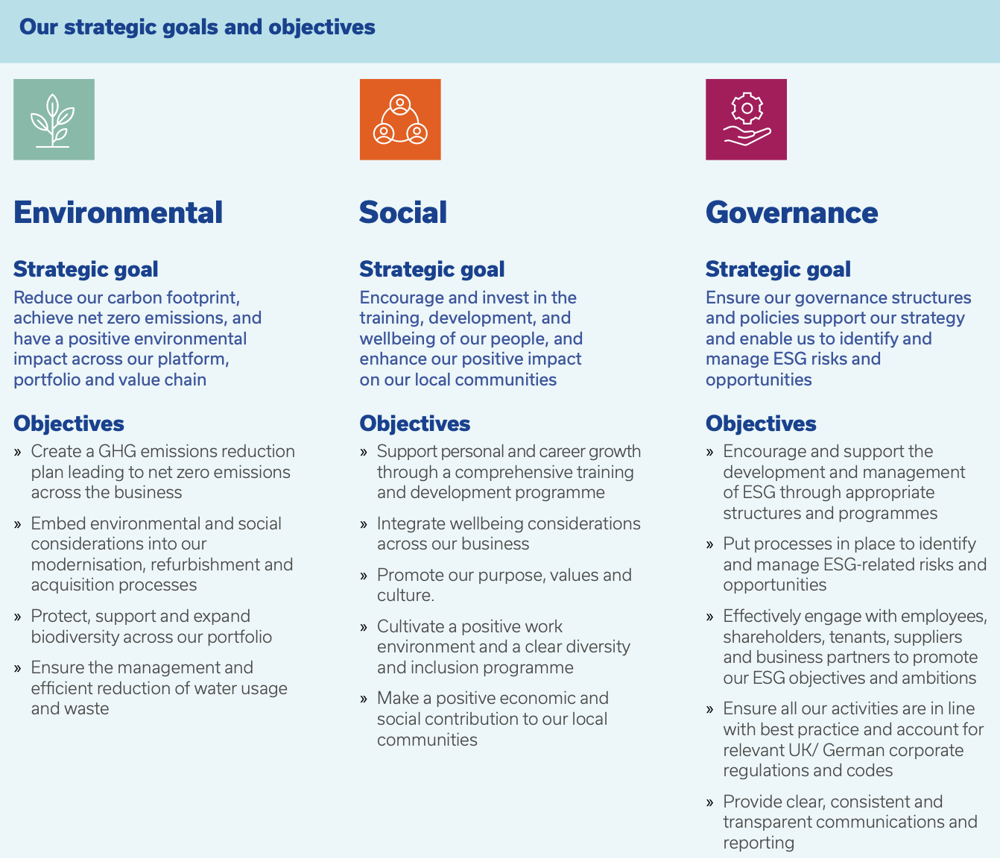 As part of prudent management practice, and in recognition of changing macro, social, environmental and regulatory trends, we continue to regularly engage with our stakeholders on ESG and other important strategic and operational matters. In line with best practice, we intend to carry out a new materiality assessment every three years, with the next one due to be conducted in FY2023/24. This will allow us to formally engage with our stakeholders to update materiality and will be an opportunity to reflect on our priorities and to measure our progress against our goals and objectives.