We are an owner and operator of branded business parks, industrial complexes and out of town offices in Germany and the UK.
Sirius applies a high-return, value-add business model to investments in industrial, warehouse and out of town office properties in both markets. The Company derives value through the execution of a stringent acquisitions process followed by selective capital investment and the roll-out of an intensive asset management plan which focuses on transforming vacant and sub-optimal space into high-quality conventional and flexible workspace. When assets have been fully transformed, they are either held for their stable income or sold, with the proceeds recycled into opportunistic assets with value-add potential.
The Group has a well-diversified income and tenant profile from large multinational corporations working within a broad range of industries to smaller SMEs and individual customers. Most sites have a combination of anchor tenants which provide secure long-term income, SME tenants on a combination of conventional and flexible lease terms, and Smartspace serviced tenants which comprise a wide variety of companies and individuals using self-storage, serviced office and workbox products. While the stability of anchor tenants is important for income security, our high-yielding Smartspace products, which are generally created by transforming previously sub-optimal space, acquired for very low cost, provide a substantial boost to income returns. 
Our workspace
Offices

Across Sirius' portfolio, our office space comprises office areas and buildings on industrial business parks, office buildings attached to warehouses, as well as standalone office buildings in more traditional office districts. Within these, we offer a wide range of conventional and flexible office solutions on either long or short-term leases, offering flexibility for our range of clients. Some business centres offer service packages such as furniture, IT and conferencing as well as co-working areas and virtual offices.

Production, storage and office space
56.2% of annualised rent roll

Storage

For businesses and private households, our sites across Germany and the UK offer a wide range of storage space options including warehouses, storerooms and self-storage products

Production, warehouses and workshops

Large production areas form the base of many of Sirius' business parks. These spaces are complemented by smaller workshop areas, which give clients flexibility throughout the development of their businesses and as their requirements evolve. Beyond this, Sirius' modern business parks often have large warehouse spaces which can be used for a wide range of purposes such as large-scale production.
Focus on Germany
The Group owns 70 wholly owned business parks in Germany, comprising 1.8 million sqm of lettable space. In addition, the Group manages one, and holds a 35% interest in seven additional properties through its Titanium joint venture with AXA IM Alts. The value of owned property in Germany held by the Group as at 31 March 2023 was €1.7 billion.

Our sites in Germany
Traditional business parks

Our traditional business parks typically feature multiple mixed-use buildings and over 30,000 sqm of workspace. The majority of these sites were originally constructed by owner occupiers generally for manufacturing and industrial usage but have since undergone significant investment by Sirius to be reconfigured for multi-tenant use and to meet the needs of modern businesses. Today, these sites offer a range of different workspace options, ranging from conventional large-scale office, storage, industrial spaces, to smaller-sized and flexible self-storage, office and conference room options. As such, traditional business parks are frequently home to large blue-chip tenants, alongside a significant number of SME and individual tenants.

Multi-tenanted
Large multinational companies
Long-term leases
Production, storage and office space
56.2% of annualised rent roll

Modern business parks

Our modern business parks often comprise expansive sites of over 20,000 sqm, featuring a blend of warehouses and office buildings. These parks are known for their superior quality and are easier to manage than traditional business parks due to a higher proportion of office space. Tenants are typically SMEs and individual customers. 

Multi-tenanted
SMEs and individual customers
Long and short-term leases
Warehouse, storage and office space
26.9% of annualised rent roll

Office buildings

Our office buildings are typically well located on the periphery of major economic centres and offer both conventional and flexible office space to SMEs and larger corporates seeking a cost-effective alternative to city centre locations. Our office buildings provide high-quality space that can be quickly adapted to meet the changing needs and working practices of our tenants.

Single and multi-tenanted
SMEs
Long and short-term leases
Office space
16.9% of annualised rent roll
Focus on the UK
The Group operates 70 sites throughout the UK, comprising 4.2 million sq ft (0.4 million sqm) of lettable space, generating £48.5 million (€55.2 million) of annualised rent roll. All our UK sites operate under the BizSpace brand and were acquired in November 2021. BizSpace offers light industrial, workshop, studio and out of town office units to a wide range of businesses offering a blend of flexible agreements and longer-term leases.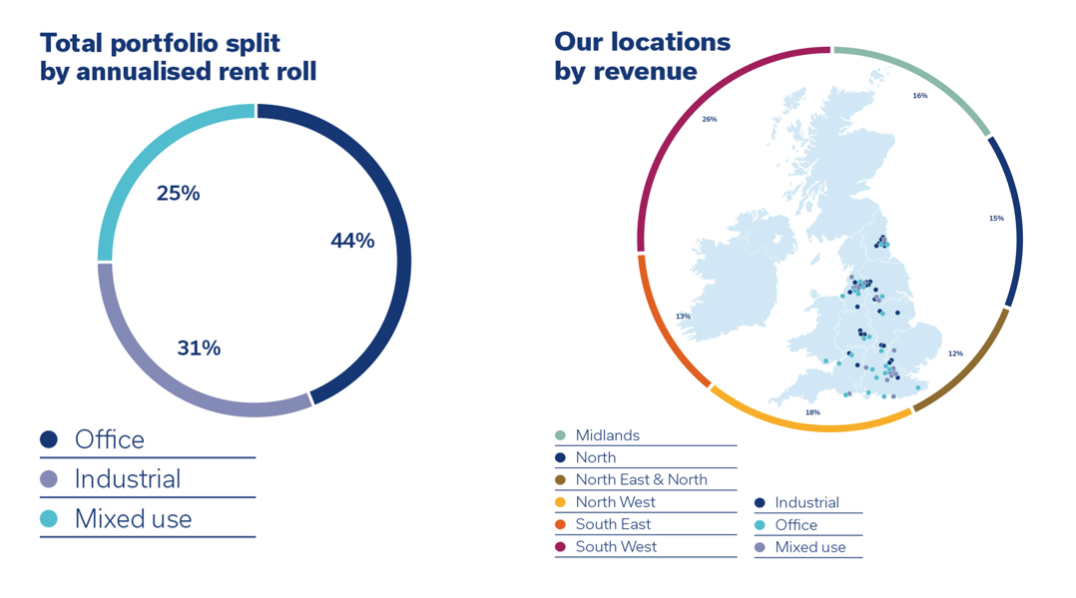 Our sites in the UK
Industrial

BizSpace provides a range of workshops and small industrial units for businesses needing space for light industrial work like manufacturing, repairing and packing, or warehouse space to store stock. Our industrial spaces range from private, self-contained workshops to managed workshop units where tenants have access to shared amenities. All units are unfurnished and sold on a sq ft basis.

Office buildings

BizSpace caters to the office needs of small and growing SMEs, ranging from small units of 80-120 sq ft which are ideal for two to three people, to larger units of over 800 – 9,000 sq ft for companies with 20-200 people. The majority of our office units are sold on a sq ft basis and are sold unfurnished, but a number of our sites also contain fully-furnished serviced offices where tenants are charged an all-inclusive monthly bill which includes Wi-Fi, utilities, cleaning and reception staff. We also have a number of co-working spaces where entrepreneurs, start-ups and self-employed individuals work alongside one another in a single shared space.

Mixed use

BizSpace's mixed sites have a combination of workshop space and office space on site. These sites are typically converted mills or factories which have been modernised and repositioned to provide flexible workspace accommodation. All units are sold unfurnished on a sq ft basis with the customer having the flexibility to choose between a lease or a licence.