Sirius continues to operate solely in Germany where its main focus is the German light industrial real estate market.
The Company also invests into the secondary office market as well as the modern warehouse business park market, but Sirius is mostly recognised as an industrial property company. The main usage within its industrial assets is light manufacturing/production, storage and offices but in order to utilise all of the space within these business parks, the Company has developed serviced offices, self-storage and workbox products which it is able to develop and let up with its own development, marketing and lettings platform.
The Company has a very diversified tenant base where its largest tenants are typically industrial, storage or conventional office tenants on long-term leases and usually have been on site for many years. Conversely the serviced office, self-storage and workbox tenants are typically much smaller and on shorter, more flexible lease contracts. It is not very common for real estate companies to compete in so many different markets with their industrial and warehouse assets, but this is one of the big differentiators of Sirius, providing the Company with a significant competitive advantage.
Sirius focuses very much on the big seven German markets namely: Berlin; Hamburg; Frankfurt; Munich; Cologne; Stuttgart; and Düsseldorf. 86% of the value and 84% of the income the Group generates relate to these markets. As at 31 March 2019 the Group owned 55 and managed an additional 2 assets of which 64% are traditional industrial business parks, 22% are modern warehouse business parks and 14% are pure office buildings.


German economy
Germany's recovery from the global financial crisis is regarded as being considerably stronger than in the euro area as a whole. Over the past few years the German economy has benefited from strengthened domestic demand, export performance and its status as being considered a safe haven which has resulted in significant capital inflows. Supported by a prevailing low interest rate environment business investment has accelerated and unemployment has reduced to record lows which has led to a fiscal surplus. The strong export performance is primarily due to an innovative manufacturing sector that specialises in highly complex, technologically intensive capital goods. The manufacturing sector is itself supported by a deep Mittelstand (the German SME) business sector which provides essential goods and services and represents 99% of all German companies.
Looking ahead economic growth is generally expected to slow due to potential impacts on exports from protectionism and downside risks relating to the impact of the United Kingdom leaving the European Union. However according to the Organisation for Economic Co-operation and Development ("OECD"), growth for 2019 is still expected to be 1.4% underpinned by continued employment growth, real wage gains and continued growth in business investment whilst growth for 2020 is projected to be 1.6%.
German real estate market
2018 was a record one for German commercial real estate with transaction volume exceeding €60.0 billion for the first time, marking the fourth consecutive year of volumes in excess of €50.0 billion. These consistently high investment volumes clearly underline Germany's status as one of the most desired locations in the world for commercial real estate investment. The investment activity is predominately focused on Germany's top seven cities which represented 55% of overall transaction volumes with Frankfurt recording the highest volumes closely followed by Berlin.
Many new investors entered the German commercial real estate market alongside existing investors further increasing their overall investments in Germany. The largest investor types investing in 2018 were insurance companies, private equity funds and pension funds. This large influx of investors has meant that competition for assets has remained high and this has had further impacts on pricing over the last year. In particular industrial, logistics and office assets have seen the biggest increases in demand over recent years and this has been reflected in the yield movements within these asset classes. Whilst we have seen further movements in the 2018 calendar year it was less pronounced than in prior years. However, we have noticed that investors are prepared to pay a premium for good quality properties in well-located areas with a strong long-term tenant base as evidenced by continued contraction of yields for such assets into the first quarter of 2019. This plays well for Sirius' strategy as its asset management model is designed to take difficult assets and convert them into these much more desirable assets.
Additionally, despite the significant yield compression that has been experienced over recent years, cash on cash returns remain highly attractive in the asset classes within which Sirius invests because of the good long-term banking deals that are available and the increasing rent levels that industrial and office assets are seeing in the market currently.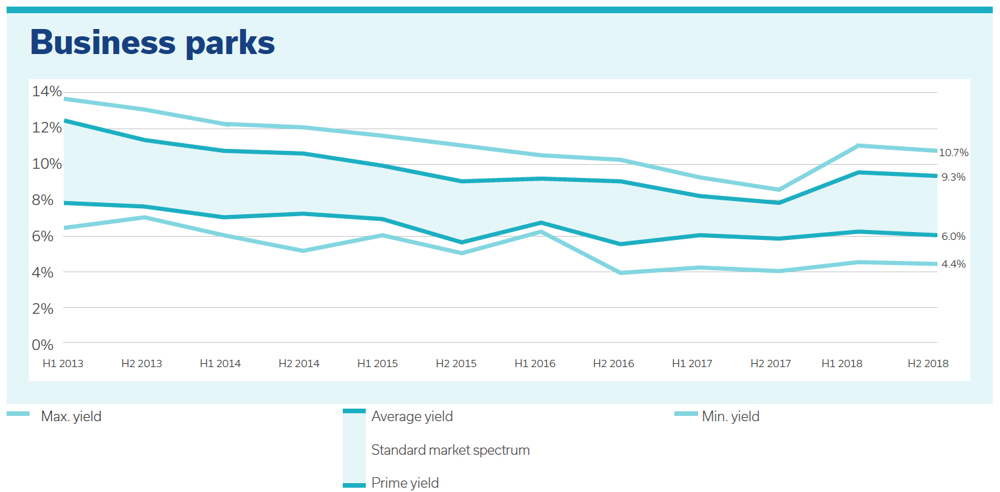 Industrial real estate market
The 2018 calendar year saw again significant investment activity into the German "Unternehmensimmobilien" market with transaction volume of approximately €2.6 billion being recorded. Whilst not a record year as far as volumes are concerned, it was the type of investors entering the market and the prices they were paying which were noteworthy. We again saw private equity, sovereign wealth, insurance companies, private investors, asset managers, public companies and increasingly funds managed by banks active in the industrial and logistics asset class. The broadening of the investor base of these assets over time is indicative of the increasing appeal of the sector which is now regarded as not just high yielding but a sector that with the right operating platform can deliver sustainable and attractive risk-adjusted returns.
The main development over the last year has been the completion of a number of large portfolio deals that represented significant foreign investment into the market. Such portfolio transactions accounted for the majority of recent transaction volumes. Local operators and private investors continue to be the main investors in single asset transactions, which continue to trade frequently; however, it is the foreign investors and banks that are investing into the large portfolio deals. These large deals may taper off into the new financial year whilst investors develop their asset management platforms and integrate newly acquired assets.
Like the other commercial real estate asset classes, investment volumes into industrial and logistics assets in 2018 focused primarily around the main German cities which resulted in the metropolitan areas of Berlin, Munich, Hamburg and Stuttgart seeing the majority of transactions. High investment volume was also seen in the office market in 2018 which has continued into 2019 with €5.8 billion of office space being transacting. As might be expected tenant demand was also most keenly felt in these areas where occupiers increasingly consider the secondary and tertiary locations around these cities due to shortage of available supply and as a cost-effective alternative to city centre locations. Whilst the big industrial tenants seeking long-term leases are still actively taking space in the sector, there is a trend of increasing demand for smaller spaces which provide tenants with flexibility and certainty over costs. Whilst lease terms generally appear to be shortening, rolling leases with indexation clauses are becoming increasingly popular, providing tenants with much desired flexibility. Landlords with the sales, marketing and operating platforms that can deal with this are at a significant advantage.