We benefit from the dynamics of the German economy and SME market, which continue to see growth, and we are well placed to take advantage of continuing demand for both our conventional space and flexible workspace.
Germany economy
Germany is the largest economy in Europe, with a GDP of $48,908 per capita ($3.4 trillion) which represents 20.1% of the total EU GDP. The economy has recovered since the financial crisis of 2008–09, delivering real GDP growth above that of the EU15 (the original 15 EU members).
Germany has the second lowest rate of unemployment in the EU at around 4.1% (Statista) and this positive trend is expected to continue. This is pushing private consumption expenditure, which is a key driver of Germany's economic growth.
Monetary policy in Germany continues to be accommodating to both business and consumer spending and a competitive manufacturing sector is driving strong export performance. The prolonged favourable financing conditions continue to provide stimuli for real estate and capital investment; however, the German real estate sector is well positioned to absorb a rise in borrowing costs should this eventuate.


German SME market
SMEs continue to represent a fundamental pillar of the German economy and form a significant part of our tenant base. According to KfW, 99.95% of German enterprises are SMEs and 68% of workers (29.1 million people) are employed by an SME in Germany.
Within the SME category are microenterprises with fewer than ten employees and these account for 34% of workplaces in Germany. These are the tenants to which our flexible space offerings are most appealing and our marketing platform continues to attract them to Sirius sites.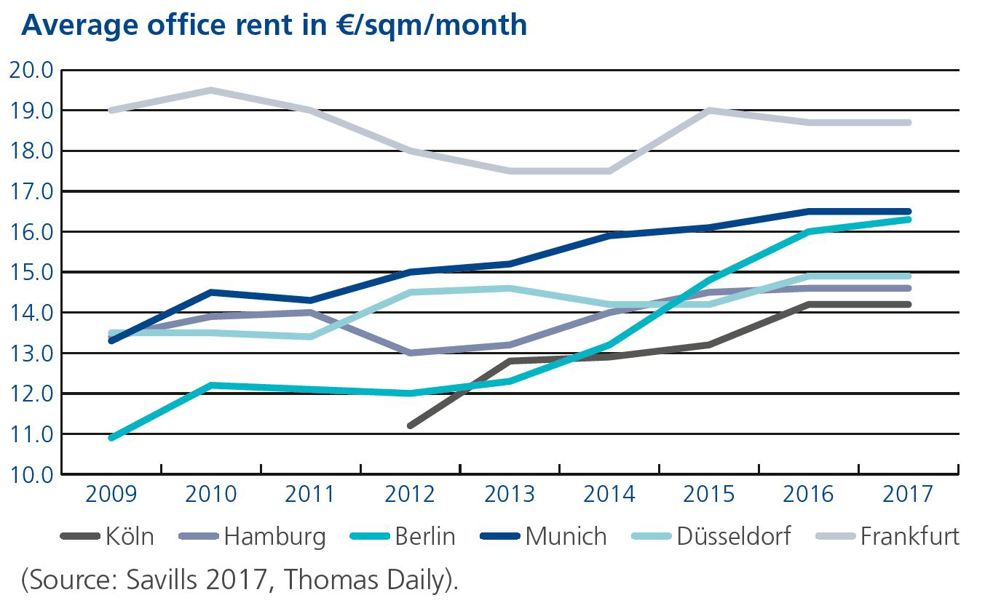 German commercial real estate market
Office market
The demand for office space in German cities has intensified particularly in the seven largest office markets.
Rental price trends across Germany as a whole are positive with Berlin, Düsseldorf, Hamburg, Stuttgart and Munich showing the best growth in average rents .
The major office markets in Germany have also seen yields come in significantly over the last seven years with prime yields dropping to under 4.0% in all of the major markets and under 3.5% in Munich, Berlin and Hamburg. The positive movement has also been seen in the secondary and tertiary locations around these prime areas and we expect to see some significant benefit from that over time.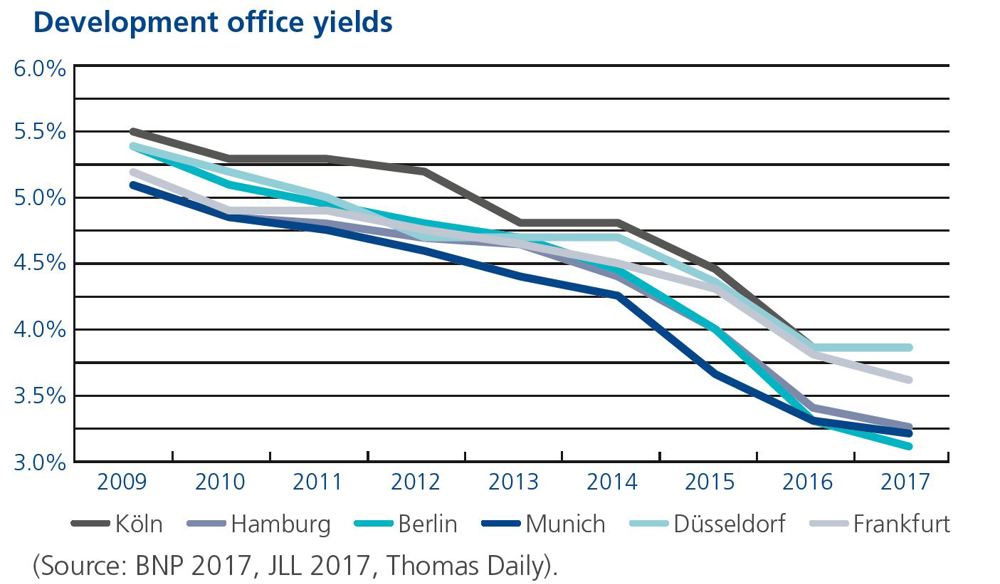 Industrial real estate market
The German industrial real estate asset class is quite broad but in general it has significantly benefited in recent years because of improved investor understanding, availability of debt financing and the relatively high yields compared to other asset classes. This has resulted in higher demand, higher transaction volume and yields coming in across all categories of the sector. What has been evident from the independent market research which has been conducted on the sector is that yields on industrial assets that have been converted into fully refurbished, highly let, better quality multi-let business parks are much lower than similar assets which have not undergone the transformation. This bodes well for our business model, which is based on converting lower quality assets in need of investment into the more desired "converted property" category.
Demand for space in the industrial market remains strong, particularly for smaller units which are not always provided by our competitors.
Information on this page is derived from the Annual Report and Accounts 2017, published June 2017.