Sirius currently operates only in the German real estate market and focuses on the industrial, storage and office sectors.
The Group has a specific focus on owning and operating assets that are located in and around the big seven German markets namely: Berlin; Hamburg; Frankfurt; Munich; Cologne; Stuttgart; and Düsseldorf. The Group currently owns and manages a portfolio of over 50 mixed-use business parks and office buildings across Germany which are marketed under the Sirius brand. The three major types of property the Group owns are traditional light industrial business parks, modern mixed-use business parks and office buildings.
The Group continues to maintain a well-balanced and diversified tenant base that ranges from large blue-chip corporations which are typically occupy large production halls on a long-term basis, SME businesses which benefit from conventional and flexible office and workspace solutions to retail tenants which predominantly lease high yielding Smartspace products on short to medium term agreements.
"From a tenant perspective, the Group benefits from the full breadth of the German economy and from a real estate perspective has benefited from the strong demand that the office and industrial markets have been experiencing in Germany."

German economy
The German economy remains the largest in Europe and the fourth largest in the world. It accounts for 28% of the Euro area economy. GDP grew by 2.5% in 2017. Germany's underlying strength shows up in rapid gains in employment and a fiscal surplus. The ECB's monetary policy continues to be favourable to investment and consumer spending whilst inflation remains low.
German real estate market
The two main real estate segments within which the Company operates are the office and light industrial markets. It does have some exposure to the warehouse and logistics markets but this is more so within its modern business parks.
The 2017 year saw extremely high transaction volumes across the board with those relating to business parks, warehouse/logistics and light manufacturing property in Germany exceed €8 billion for the first time. This includes the combined effect of single asset and portfolio transactions as well as corporate merger and acquisition activity.
Office volumes were also high amounting to an aggregated result of €25.5 billion which represented 45% of the total investment volume in 2017 and the second-strongest result on record. 75% of total office investment volume was directed into the five major German city markets, where Frankfurt and Berlin alone accounted for approximately €11.1 billion.
Such investment volumes are reflective of the desirability of both the industrial and office markets in Germany to both domestic and foreign investors and this has been reflected in yields coming in further. We are seeing the imbalance from the restricted supply of quality product and this extremely high demand from a broad investor base pushing prices up and the industrial and logistics asset class in particular has become increasingly more investible for many investors.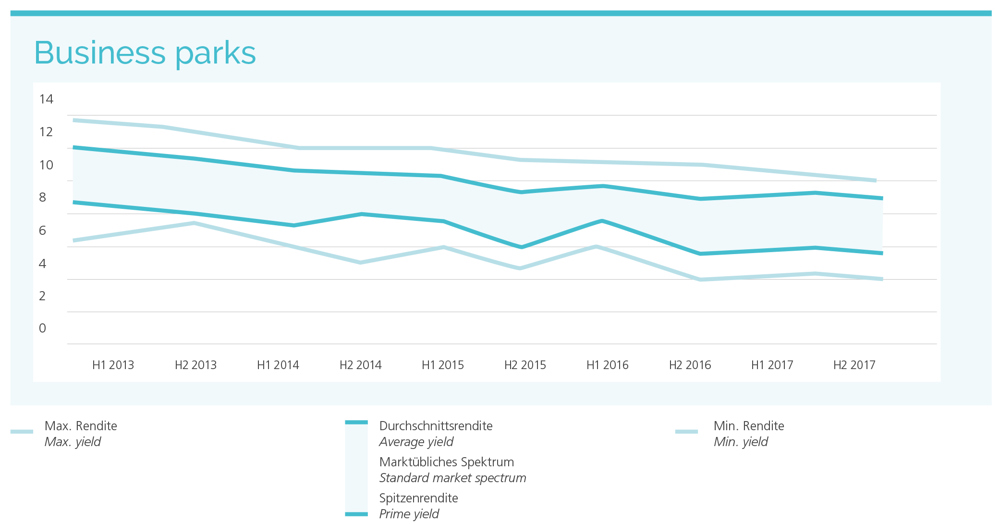 Industrial real estate market
The industrial real estate market that comprises business parks, warehouse/logistics properties and light manufacturing properties continues to attract both investors and occupiers as evidenced by transactional volumes and strong take-up seen over the last year. Investors' interest in the industrial market is typically considered to be based upon the attractive yields available relative to other asset classes, the impact of online retailing on warehouse/logistics properties and the versatility and conversion potential of business parks. Occupiers meanwhile are attracted by the operational continuity a strategically well placed industrial property provides whilst the mix of scalable units and service offering within a converted industrial space meets the flexible demands of SME's and micro enterprises.
As expected gross initial yields across industrial real estate continued to tighten during 2017 as demonstrated in the tables below. The spread of gross initial yields for developed industrial business parks, based on transactions recorded, has narrowed from between 12% to 8% in 2013 down to between 8% and 6% in 2017. We are now seeing transactions completing at below 6% in the market, but these are usually for mature portfolios. This demonstrates the potential that can be achieved with developing industrial assets in the strong locations around Germany.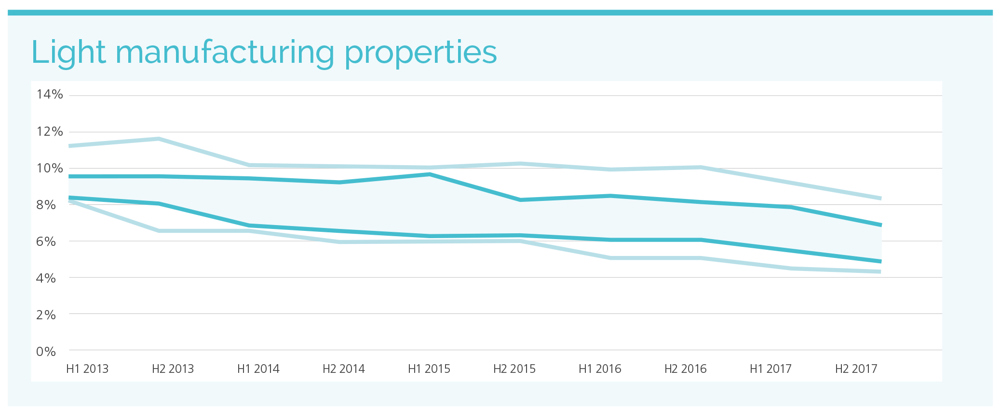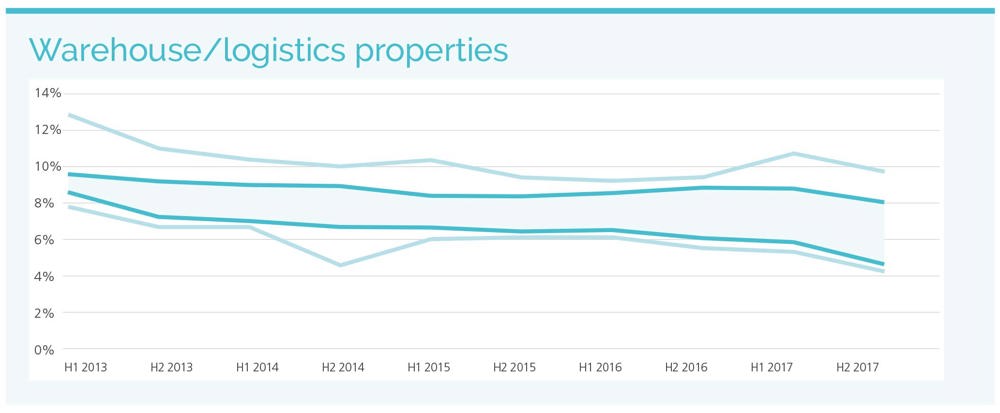 Office market
The German office market has seen falling yields for some time now. As indicated by the table below average net yields for prime office stock in the six major office markets continue to fall year on year with a reduction of 38 basis points in 2017 bringing the average gross yield down to 3.21%. Whilst Sirius does not invest in the prime office space it does invest in good quality offices in the secondary and tertiary locations in and around the big six markets and, as a result, should also benefit from this positive yield movement. As office rental rates continue to grow in core locations it is reasonable to assume the pricing competitiveness of secondary locations becomes an increasingly attractive proposition for occupiers. Such dynamics combined with the capability of its operating platform to drive occupancy and rates gives the Company confidence to generate attractive returns at the property level without having to rely on solely yield movement.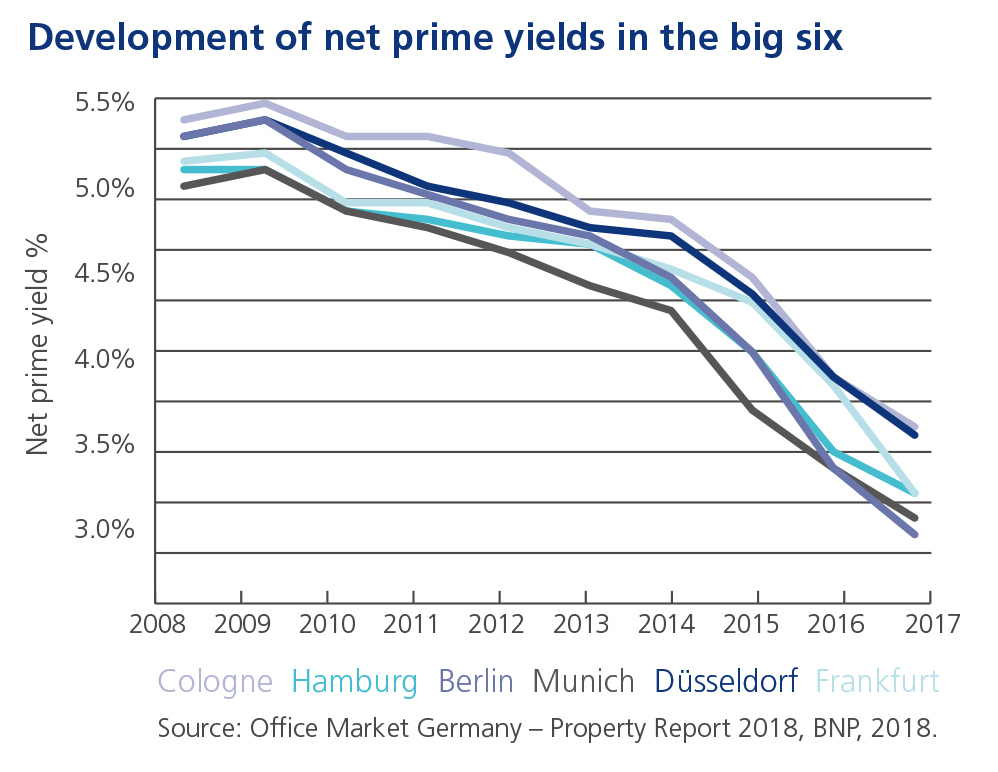 Source: Initiative Unternehmensimmobilien, bulwiengesa, H2 2017.