We recognise the significant representation of real estate in global emissions and take seriously our responsibility to drive down our platform and portfolio emissions as much as possible, through considered and in-depth management assessment, implementation and stakeholder engagement.
More detail on our GHG emissions reporting and data can be found here.
Defining a net zero pathway for Germany
We are pleased to report that our German platform has achieved net zero emissions for Scope 1 and Scope 2 emissions in the last financial year and that our emissions, including the offsets that we have acquired, are certified by Achilles, the global validation company. As a next step, we are now looking at the feasibility, both in practical and financial terms, of achieving net zero emissions in Germany by 2045 for our Scope 3 emissions. Initial results of our in-depth assessments of the Sirius portfolio show that net zero emissions, in line with the German national target, can be achieved across the Sirius German portfolio based on the Carbon Risk Real Estate Monitor ("CRREM") methodology, the leading global standard for operational decarbonisation of real estate assets, and in line with the Science Based Targets initiative ("SBTi").
At this stage, the results do not include the Titanium joint venture as we are developing a separate decarbonisation programme for these assets with our partner AXA Investment Managers – Real Assets.
We worked with EVORA Global ("EVORA"), a leading real estate sustainability advisory firm, to develop our strategic decarbonisation roadmap. During the last financial year, we finished a portfolio-wide analysis of the carbon intensity of our German assets. EVORA conducted a net zero carbon assessment for 14 individual buildings in Germany. Based on the results of those assessments, EVORA then extrapolated the results in order to estimate carbon emissions and savings potentials for our entire German asset base.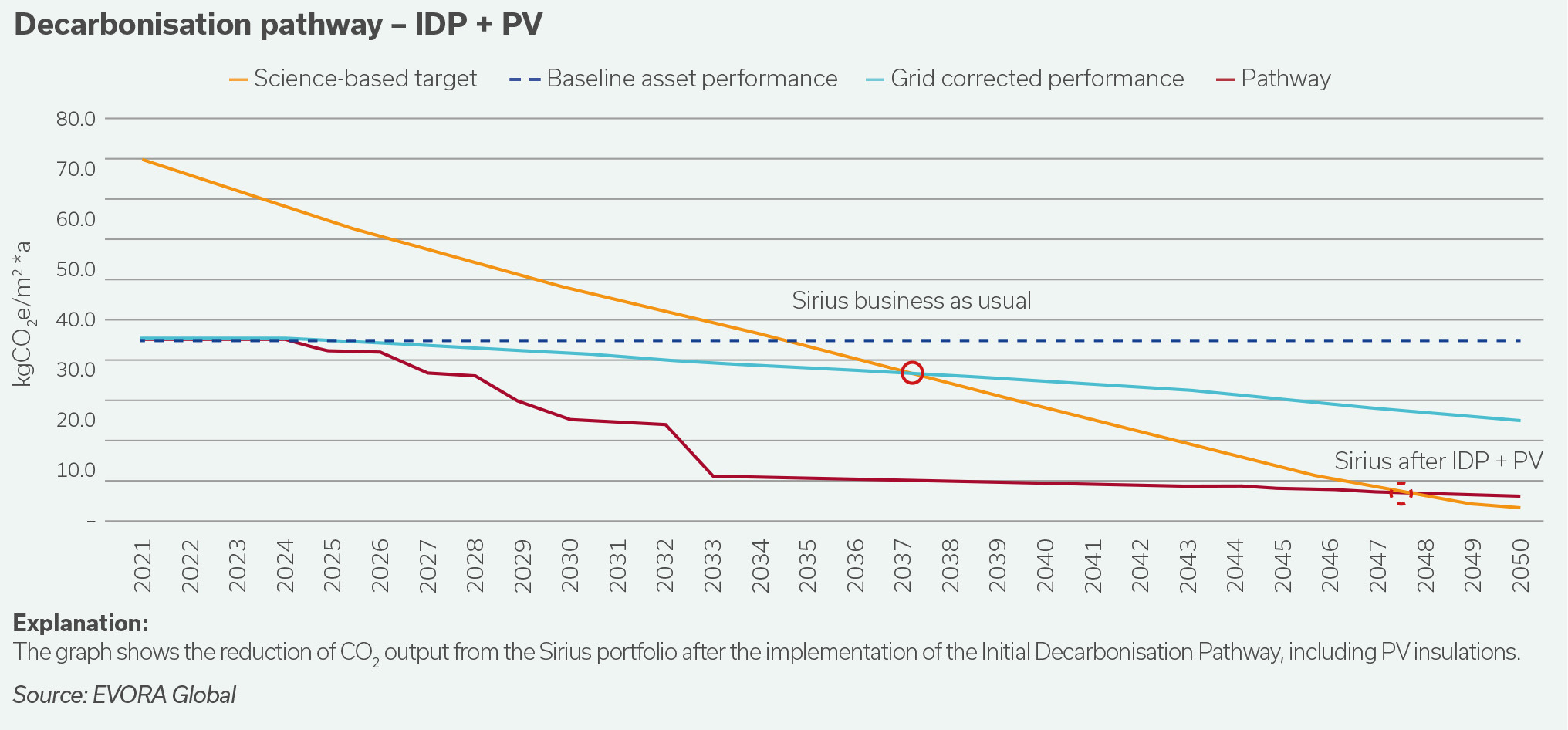 The graph shows the CRREM analysis with a simulation of a range of decarbonisation actions that will enable us to have the potential to achieve emissions in line with the science-based target for 2045. EVORA has modelled various building improvement measures, identified as the Initial Decarbonisation Pathway ("IDP") and the development of on-site renewable energy generation, through photovoltaic ("PV") installations, to calculate the potential impact across the portfolio. Renovation measures have to be considered at site level. As a result, the implications of the findings and the potential pathway are now in the process of being analysed by our Senior Management Team on an asset-by-asset basis, considering operational, implementation and financial management requirements. This is a considerable piece of work when considering the scale and complexity of our German portfolio and will involve coordination across multiple elements of our business.
As of 1 April 2023, we formed an ESG department in Germany to lead on this work, reporting to Kremena Wissel, Chief Marketing and Impact Officer, and Rüdiger Swoboda, Chief Operating Officer. Over the year ahead they will build a plan of action and a financial model based on the IDP actions and timeline required to bring our portfolio to achievable net zero emissions. Their work will include looking at improving the data quality; rolling out LEDs; decarbonising the heat supply; the potential for on-site renewable energy generation through PV installations; and engaging with our tenants to improve operational building utilisation as well as the potential for the decarbonisation of on-site production processes. All their considerations will be based against providing a long-term sustainable return to shareholders. We intend to be in a position to define and communicate a more detailed net zero pathway for our German portfolio at the end of the current financial year.
Through the analysis, we also recognise certain restrictions within the CRREM analysis which we will continue to address going forward. Firstly, gaining complete building energy consumption data remains a challenge, especially with regard to tenant energy consumption. Our analysis has included benchmark values to fill data gaps where they exist, so we expect consumption values to change in the coming years as more reliable operational energy data becomes available to us. This analysis was also completed in calendar year 2022, using 2021 consumption values applying CRREM version 1.17/2021. CRREM is continually updating its assumptions and target pathways. We will apply new CRREM releases in our future reports, so we expect the analysis to change in line with the evolving methodology. We also note that the emission intensity analysis in this report is based on the location-based emission factor methodology, using the location-based carbon factors provided by CRREM. It is our intention to undertake a market-based emission factor methodology during the current financial year. Finally, we have the challenge that CRREM offers different target decarbonisation pathways for different building types. However, some of our buildings in our portfolio are not an exact match with the provided CRREM building categories. For example, some of our industrial tenants' operations have quite energy intensive production processes in our buildings. As CRREM applies a whole-building-energy approach, the energy demand of industrial processes will, at least partially, be included in the analysis and will have a negative impact on the risk assessment of the building. This effect is not recognised by CRREM. Going forward, we aim to gain better datasets of building energy versus industrial process energy in order to achieve a more precise CRREM analysis.
Defining a net zero pathway for the UK
In the UK, where we operate through the BizSpace brand acquired in 2021, we aim to achieve carbon neutrality, and potentially net zero, for Scope 1 and Scope 2 emissions in FY2023/24. This year, to align with the analyses and management processes used for the German portfolio, we will commence a process to assess the potential pathway to net zero emissions for Scope 3 for the UK portfolio by 2045 or 2050 in line with CRREM and SBTi. We intend to be in a position to communicate the results of this initial assessment during FY2024/25.
As a first step on defining the long-term pathway to net zero for the UK portfolio, we completed an EPC review of all our UK properties. The assessment was designed to understand the actions needed to invest in the portfolio to align with UK Government requirements for commercial rental properties to have an EPC "C" rating by 2027, and EPC "B" rating by 2030. As at the time of reporting, all BizSpace properties carried the necessary EPC rating to meet UK regulatory requirements.
The UK Senior Management Team is now considering the implications of the EPC improvement programme from an operational and financial management perspective and is building a detailed plan that will show potential improvements to be made on an asset-by-asset basis. We aim for this to be completed in the current year. However, from the initial assessment we are confident of meeting the EPC requirements for the portfolio in line with UK Government targets. As with Germany, we are forming an ESG department for our UK business with the responsibility to create the EPC plan and integrate our EPC actions with the evolving net zero pathway
Accelerating carbon reduction
In line with our ongoing commitments to understanding and defining our net zero pathway, we recognise that there are multiple opportunities across our business to reduce emissions. In September 2022, we moved our head office in Berlin to a leased building with gold standard DGNB certification, an internationally recognised global benchmark for sustainability. The new office is also powered by close to 100% renewable electricity, which is fully aligned with the commitment we made a number of years ago to sourcing our electricity from renewable sources. Across our portfolio in Germany, the proportion of renewable electricity against total electricity provision is forecasted to be 97.6%.

As we acquire new sites, we work to transfer them onto our renewable energy platform when existing energy contract renewal opportunities allow. This means that we will sometimes see a fluctuation in the renewable electricity proportion.
In the UK, BizSpace has been providing renewable electricity for a number of years and as the portfolio has been more static than in Germany, it has achieved close to 100% consistently for the last three years.

As part of the programme to identify emissions reductions opportunities, we have, in the last prior financial year, commenced an opportunity and feasibility study for on-site renewable energy generation for the German portfolio. An initial assessment of the potential for PV installations at a selection of our German business parks, through roof-mounted solar panels, is due to be completed by the end of calendar year 2023. Senior management will then take time to consider the implications of this review and how it could be expanded, from both an operational and financial standpoint, across relevant sites, and how this could feed into our overall energy profile. As part of this assessment, it is our intention to develop two sites with PV installations as test cases to have a full understanding of the operational challenges and financial implications. This work will be managed through the German ESG department.
Providing regular improvements to our portfolio is a vital part of delivering on our service proposition to our tenants, suppliers and colleagues who work across the portfolio sites, and in supporting our wider carbon reduction and energy efficiency aims. Our roll-out of smart energy meters across our German sites is on track to be completed by 2027, with six additional sites equipped in this period.
Our progress on smart meters in Germany is summarised below:

We continue to convert old inefficient lighting to LED as part of a continual roll-out and maintenance programme across all our properties, with a total of 52 lighting optimisation projects across 33 sites being identified. Ten have been completed since FY2021/22 with 14 currently in progress, and an additional 28 identified and budgeted for completion throughout FY2023/24. We will continue to assess our properties for further lighting optimisation opportunities.
Equally, we continue to make progress on our EV charging point installations, with 20 added in the period and a further 2 already scheduled for completion by September 2023. We are also engaging with our tenants to identify and review other sites for installation of EV charging points.

We are also completing heating system checks in line with German regulations and have identified 17 heating systems that will be replaced, adjusted or more efficiently run over a ten-year period. This programme of heating system replacement will continue to evolve across the portfolio, and we will update as appropriate.
In the UK, we are near completion for the roll-out of smart meters across the portfolio, with eight sites remaining to be reviewed over the next six months.
During the last financial year we also signed a national contract with an EV charging point supplier and are starting with a pilot project. Once this has been completed and reviewed, we will consider the implications for what a further roll-out across remaining applicable sites would look like.
On the back of developing the EPC conversion programme, the UK has also started on a programme of converting old lighting systems to LED. During the last financial year, our sites in Hooton and Cheadle have had LED installations completed. We are currently identifying those sites that will receive LED upgrades in the current financial year. Similarly, we are examining those sites that will have the heating systems replaced or upgraded as part of our intention to meet EPC requirements over the next four years.
More detail on our GHG emissions reporting and data can be found here.